Support of the mobility change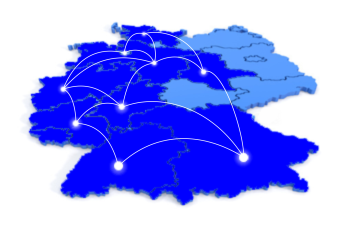 We are the first contact for the German ITS industry, politics and administration. ITS Germany has been working at the interface between computer systems and telecommunications for more than 20 years. We started at a time were digital technology products called a niche field. Now, dominate our everyday lives in the form of Internet applications and smartphone apps.
Digitalization is both an opportunity and a challenge and it is shaping mobility, too. Major changes have an influence in the near future. A digital ecosystem has already developed around cars and public transportation. Digital and telematics systems have become indispensable in traffic control, especially in urban areas. ITS Germany supports the dynamics of this mobility revolution in an active change.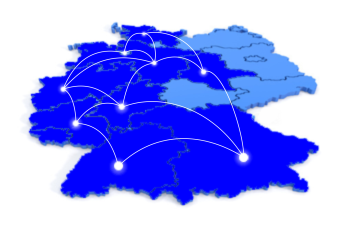 Representative of the ITS Industry
ITS Germany represents the medium-sized telematics industry. In addition, we promoting technologies with their applications and mediating between industry, politics and administration. Moreover, initiate a moderate pre-competitive communication and cooperation among our member companies.
Our main focus of our work includes, standardization and certification in the areas of mobile parking and public transport. As well as traffic telematics and technologies for user financing of transport infrastructure. These topics we are represented in the important committees and advisory groups of the various ministries (e.g. Digital Summit or IVS Advisory Board of the BMVI). That makes us to a constructive player in the relevant legislative initiatives.
Traffic Telematics
The Traffic Telematics work area includes companies focusing on traffic guidance systems, network control systems, traffic data acquisition, parking guidance systems and infrastructure for connected, autonomous and automated driving (C-ITS infrastructure).
Parking
TelematicsPRO (mobile payment for parking) is the sole certification body for operators on the payment and control platform used in Germany and Austria. The platform was introduced by US in the 2000s and has established itself excellently (http://www.smartparking.de). In some cities, more parking transactions are already paid for an app than a parking ticket machines.
HUSST
ITS Germany has been hosting the support and further development of the manufacturer-independent standard interface "HUSST", since 2016. This interface between "frontend device" and background system in public transport complements the VDV-KA. It was developed by the Association of German Transport Companies (VDV), that enables smooth communication and exchange of devices. Furthermore, it increase heterogeneous payment infrastructure of different manufacturers .
Toll
In Germany and European means "Toll" a manufacturers and operators of systems and components. The main topics are national and urban tolling projects, but also the European harmonization of tolling services (EETS) and urban access systems. Our support beside the German government's Digital Summit includes the Mobility Data Working Group, that we started. In this working group, we are contributing to the implementation of the "Roadmap Intelligent Mobility". That was developed with significant input of us and include the same name of the Digital Summit focus group. We are primarily concerned with issues of data availability and data compatibility.